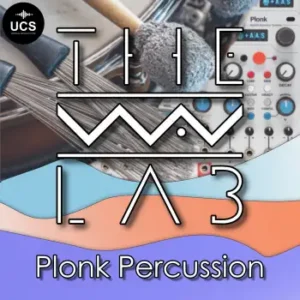 Intellijel's Plonk is a physical modeling percussion synthesizer for eurorack format. It's made in partnership with Applied Acoustics Systems (A|A|S) who specialize in physical modeling. I think their plugin Chromaphone is really the legacy brain behind Plonk. Both are great… Plonk, being hardware, has less depth but seems more playable; especially live. Chromaphone works better in DAW production. You just can't beat plugin recall and precision control in a sequence.
Now that the summary is out of the way… I made some sounds. You can get them here! https://thewavlab.com/product/plonk-percussion/ These are categorized into folders, and aligned to Universal Category System. I find them really useful in a hardware sampler like Octatrack, or in a software drum plugin like Battery.
For a more entertaining look into what Plonk can do…   and to see the trick I used to make this collection of samples,  watch this video from the talented Andrew Haung.
---
Joseph Miller is a tonmeister working in music and sound mediums. He contracts with companies from around the world, on projects big and small, from a studio filled with sound making devices and acoustic musical instruments.
All author posts